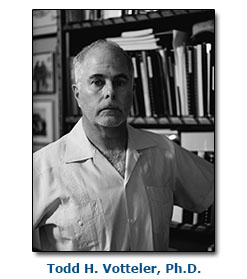 Todd Votteler served as special master for the U.S. District Court in Midland in the Sierra Club v. San Antonio case and worked for the court monitor during Sierra Club v. Babbitt. Votteler has in-depth first hand knowledge of the many complicated legal, hydrologic, economic, and cultural issues surrounding the Edwards Aquifer.
He holds a Ph.D. in Environmental Geography and is a frequent contributor to popular publications on the Edwards and water issues in Texas.
For 18 years he served as Executive Manager of Resource Policy & Stewardship for the Guadalupe-Blanco River Authority and he also serves as Editor in Chief of the Texas Water Journal.
In 2017 he left GBRA to divide his time between three pursuits - the Texas Water Journal, his own consulting firm Collaborative Water Resolution, and a group of international water mediators called Four Worlds Consulting.
I am very happy to be able to offer a selection of his published articles for downloading here.