Pumpers in San Antonio pool return to Stage 2 management measures
On January 30 the Edwards Aquifer Authority confirmed a return to Stage 2 of its Critical Period Management Plan, which requires pumpers to cut back by 30%.
The management stages are triggered by 10-day averages of both index well levels and springflow rates, and conditions were satisfied on January 28.
Nothing changed for San Antonio residents, which had remained under the city's Stage 2 restrictions. Other cities in the region had to implement stricter measures to meet the pumping cutbacks required by EAA, but San Antonio is able to draw on multiple alternate water sources and can meet the cutbacks in Edwards pumping without imposing measures that may be required in cities that do not have other water sources.
Controversy over Edwards protection program results in May ballot measure
In January, City Council members Ron Nirenberg and Ray Lopez filed a Council Consideration request that sought to extend the Edwards Aquifer Protection Program and the Linear Creekway Parks Development Program, both of which are supported by a 1/8 cent sales tax. The tax is set to expire this year.
Voters previously approved the tax in 2000, 2005, and 2010 by overwhelming margins. So far, more than 130,000 acres of sensitive Edwards land has been protected through purchase or conservation easements, and about 46 miles of trails and hike and bike paths have been completed on creekways throughout the city.
Most of the protected land lies west of the city, because water flows in the Aquifer from west to east, from the major recharge areas in Medina and Uvalde counties, underneath Bexar county, then on to Comal and San Marcos springs in Comal and Hays counties.
By using a market-based approach in which willing sellers offer the development rights on their property, the Edwards program has become an international model for water quality protection.
As for the Creekways program, I have been in a helicopter flying the length of Leon Creek on a weekday afternoon and was astounded by the number of people using the trail system for walking, biking, and running.
The proposal by Nirenberg and Lopez immediately began to get some push back from Mayor Ivy Taylor and others on the Council who questioned the long-term goals of the programs and suggested at least some the money might be better spent on other community priorities such as public transit, renovation of Alamo Plaza, or even other pet projects like a new sports stadium.
Mayor Ivy Taylor said "I'm wondering if there's a way to continue to achieve the goals we've focused on with those programs and tie them in with other things we want to do in the community."
Council member Joe Krier said "The idea of buying up property in other counties, I think, at least for me and for other people that I've spoken to is an uneasy feeling."
Almost no one who has had anything to do with the Edwards Aquifer in the last 40 years liked the suggestion the tax should be allowed to expire or be revamped to provide funds for other initiatives.
In a guest column for the Rivard Report, Jim Smyle offered five reasons the Aquifer Protection Program should be extended, which included the fact that water security is a #1 priority for San Antonio, the cost efficiency of protection versus water treatment, the simplicity of the approach, the respect for private property rights the program employs, and the notion that it is a free-market solution.
The Express-News Editorial Board chimed in, saying the conservation program should be put on the May ballot and "Those who believe there are better uses for these funds can make their case to voters this election. If voters choose to reject the Edwards Aquifer protection or linear parks, then we can have a discussion about new priorities at that time."
As for when the program should end, former Mayor Phil Hardberger bluntly said "Never, probably." Long-time readers will recall that Hardberger was one of the early pioneers in Aquifer protection, serving as the lawyer for groups that opposed a massive development over the Edwards in the early 1970s (see the story on the Laws and Regulations page).
By mid-January, other community power players were throwing their support behind a straight-up ballot measure to renew the tax. In a front-page headline story on January 24, the Express-News reported Air Force Brigadier General Robert LaBrutta, commander of Joint Base San Antonio, had sent a letter supporting renewal of the program and pointing out the programs helps lessen the impact of development around Camp Bullis. The San Antonio Chamber of Commerce board unanimously voted to support continuation of both the Aquifer protection and linear parks program.
On January 24, the Rivard Report broke the news that voters would have a chance to continue both programs unchanged. In an email to supporters, Mayor Ivy Taylor said that if voters approve, "the Edwards Aquifer conservation easement purchase program will continue unchanged and fully funded. The creekway park development program will be accelerated. Both renewals will last for approximately five years based on projected sales tax revenue, to be collected beginning in 2016."
On January 29, City Council voted unanimously to place the sales tax renewal on the May 9 ballot.
New series of paintings depict ancient Edwards springs
As we focus on management of the Edwards Aquifer for the benefit of today's humans and endangered species, it is easy to overlook the long prehistory of the large Edwards springs.
For one thing, there is very little imagery to remind us of the very long and profound connection between these sites and the humans they have sustained for thousands of years. We are simply the latest in that chain of humanity.
For the descendants of native tribes, the Edwards spring sites are still sacred, places that are central to their traditions and religion.
In 2014, I commissioned artist Susan Dunis to create glimpses of these places as they may have appeared about 4,000 years ago. Working with historians, archaeologists, and hydrologists, we created a series of images that illustrate various aspects of the prehistoric cultural importance of the major Edwards springs.
All of these places have a record of human history stretching back at least 10,000 years and had great significance on many levels. For pure utility, hundreds of generations of people who visited or lived at these places hunted and gathered, built fires, cooked their foods, made tools, and carried out countless other ordinary daily-life activities.
On a social level, they were gathering places where diverse groups speaking different dialects and languages came together for feasts, special celebrations, courtship, trade, and negotiations.
On a sacred level, they were places where special rituals took place such as religious ceremonies and burial of the dead.
Why did we pick 4,000 years ago as the time to represent?
The answer lies in an ancient painting in the Lower Pecos region of southwest Texas known as the White Shaman panel. Natives believe the painting depicts the fountain springs of the Edwards Aquifer as part of a sacred geography, and the panel is nothing less than the earliest map of Texas. One of its functions was serving as a guide for a sacred pilgrimage that people would endeavour to undertake at least once in their lives.
The paintings follow a family of Coahuiltecan Indians from that time period as they make this pilgrimage from spring to spring. Each painting illustrates at least one aspect of the interaction people had with these places.
We may be reminded that we are not so far removed from those ancient people as we think; we still rely on these springs for many of the same things.
About the artist:

Susan A. Dunis is a painter and ceramist who has lived in Texas over 30 years and currently resides in Blanco. She studied at Lake Forest College and the Art Institute of Chicago before co-founding Dunis Studios Fine Art Tile in Bulverde, Texas.

The studio's handmade art tiles are known the world-over for their inherent beauty and quality and have been featured in dozens of high-profile installations, such as the restoration of the Statue of Liberty and a landmark mural on San Antonio's famed River Walk.

She is currently painting the rivers and springs of the Texas Hill Country at her studio and gallery in Blanco, Texas.
---
The first painting in the series depicts Barton's Upper Spring, which still flows as a fountain when pressure in the Aquifer is high. For the younger persons on the voyage, this is the first fountain spring they have seen, and it elicits a sense of wonder and awe. The older travelers greet it like an old friend.
If you have seen Upper Spring flowing at fountain stage, whether just once or many times in your life, you have no doubt experienced the same feelings as those ancient persons. You are therefore bonded in spirit directly to those persons of 40 centuries ago.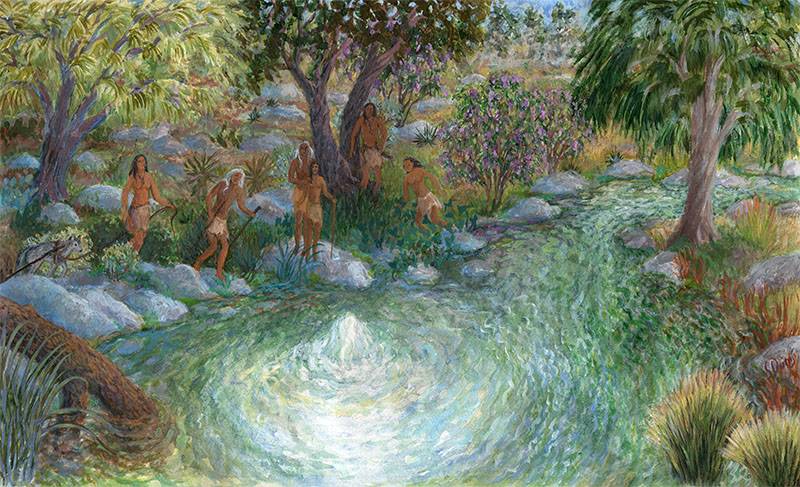 ---
Of all the springs and sites that would have been visited on the Coahuiltecan pilgrimage, the San Marcos Springs are key. This is the creation site of the Coahuiltecan Indian tribes, shown here in ceremony.
Natives explain that when they were in their pre-human spirit form, they do not really know what they looked like. After following a deer through the underworld, they took on their human form when they emerged as people from the fountain springs of San Marcos.
Today the fountains are inundated under Spring Lake, although in recent years there is increasing discussion of removing the dam and restoring the natural beauty and dignity of this place by letting the springs be fountains once more.
The native tribes still maintain their covenant with sacred sites like San Marcos through the Indigenous Cultures Institute. Visit their site to learn more about their programs and sign up for a guided tour. They will tell you more about the significance of the other sacred animals and many other elements in this painting.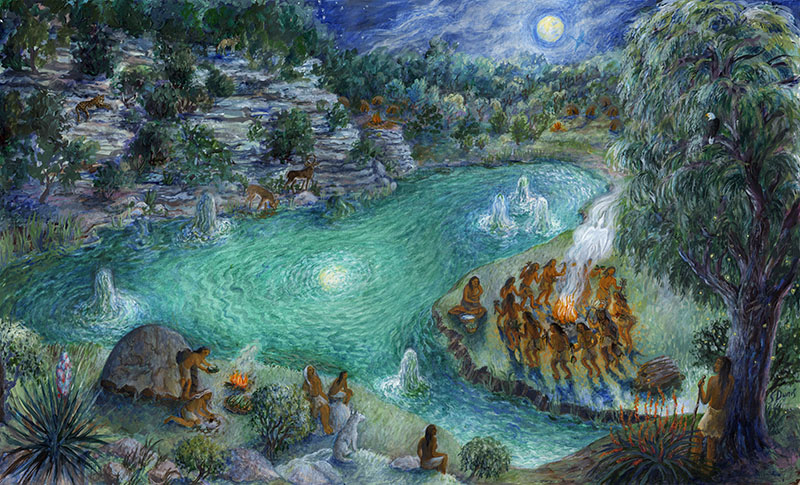 ---
In this painting, the theme is the use of the springs for everyday activity - cooking dinner. The site is still largely recognizable today, and the rock being used for cleaning a fish is still there, with traces of animal residue from thousands of cooking events still visible.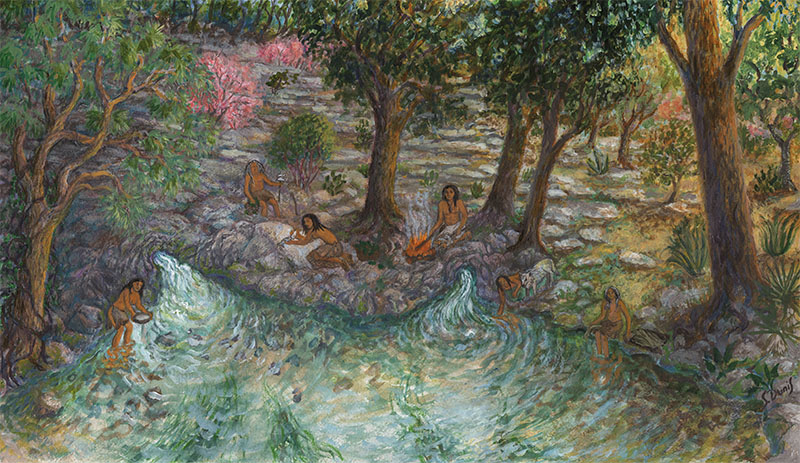 ---
In this painting of The Blue Hole, largest of the San Antonio Springs, the theme is trade. While the ladies enjoy some cool refreshment, men are bartering for goods which were painted using excavated artifacts in the Witte Museum collection as references.
---
Here the theme is the use of the springs for gathering food and tools, and their use for simple pleasure and relaxation. While the younger family members take a swim in the sun-drenched springs, the men are selecting chert for point-making, collecting wild grapes, and fishing.